Awning Motors & Controls
Why motorize an awning?
Motorization of retractable awnings is generally done for convenience and safety.
With a push of a button from the inside comfort of your home, your awning will extend or retract as desired. Additionally, automatic controls can be added which would extend the awning when the sun hits the sensor thus protecting your furnishings from fading and lessening the heat gain in your home. Automatic controls also can provide a safety factor by retracting the awning when dangerous winds are detected.
Other electric options available include:
Remote controls
Weatherproof outdoor controls
Group controls allowing multiple awnings to be controlled at one time.
"Smart house" interface controls
Somfy Motors and Controls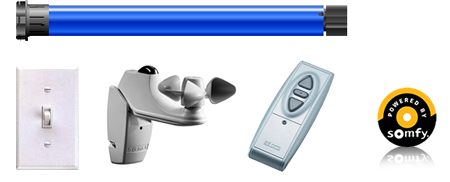 Optional Somfy motors and controls integrated with Eastern Awnings allows for operation from simple wall switches and with sophisticated smart house controls.