Sunflexx
®
Retractable
Patio Awnings and Retractable Deck
Awning
The best

Fabric Deck Awnings

under the

S

un

!
Eastern Awning Systems' Sunflexx® is the most ultimate state-of-the-art awning system on the market today. The Sunflexx® significantly extends the usability of your deck or patio. Our retractable awnings provide a cool, comfortable shady patio or deck area when you need it and stores away when you don't.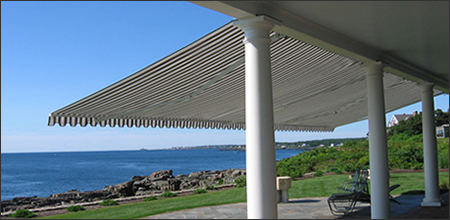 Our retractable deck and patio awnings are engineered to withstand greater upward or downward force from unexpected inclement weather than other fabric patio awnings or fabric deck awning system. This is achieved with our highly specialized and patented Urethane Compression Shoulder Joint which allows the awning arm to flex as pressure increases from either direction.
The hottest way to cool your
patio or

deck.

Retractable Patio Awnings.

The Patio Awnings shown here shows Eastern Awnings' exclusive hidden front rail. If you look, you will notice most other retractable patio awnings & retractable deck awnings leave their front rail exposed, contrasting with the awning fabric.

Shade when you need it, Sun when you want it.

Picture a beautiful awning accenting your deck or patio while providing protection from the sun on those hot days. At the touch of a button or turn of a crank, your interior living space expands, providing you with a cool, comfortable shaded patio or deck under your new awning. Eastern Awnings provide beauty and sun protection without the unsightly retractable awning frame work and costly seasonal maintenance of a permanent frame patio awning or deck awning.