Retractable Window Awnings...
The final touch to cool your home and protect your furnishing.

Mini and Maxi retractable window awnings provide the benefits of keeping your home cooler as well as protection for your valuable furniture from harmful rays of the sun. The compact style Mini window awning with its integral window awning hood is available up to widths of 10 feet. When covering larger window areas, our Maxi retractable window awning can span widths up to 30 feet.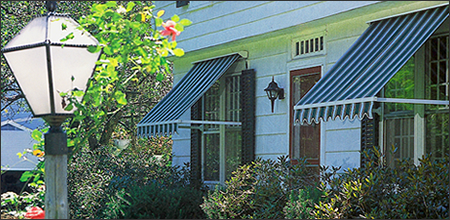 Retractable Window Awning Operation
Eastern's retractable window awnings can be operated by either a gear or an optional motor. The Mini retractable window awnings have a through-the-wall gear drive option for interior operation. Our all aluminum awning frames have a powder coated finish and the five year limited warranty assures many years of trouble free retractable window awning operation.