SunScape
®
Relax & Enjoy the Shade
on your patio or deck
If your deck or patio is too hot to enjoy on sunny days, then a SunScape® retractable patio awning is the solution for you. At the touch of a button or turn of a crank, your beautiful fabric deck or patio awning will extend to provide the cool comfort of your favorite shade tree.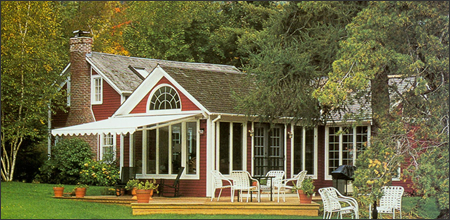 A SunScape® retractable patio and deck awning provides sun protection and beauty without the seasonal maintenance or unsightly awning framework like that of a permanent frame patio awning. In addition, you will be protecting your family and furnishings from the harmful rays of the sun.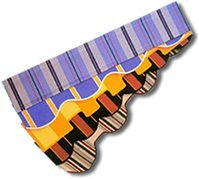 The SunScape®'s quality features include all stainless steel fasteners and arm cables, as well as heavy duty coated components designed into a sleek, attractive sturdy awning frame.
Choose from hundreds of exciting fabrics and accent it with one of many valance styles. Eastern's SunScape® awning will add to the beauty, value and comfort of your home.